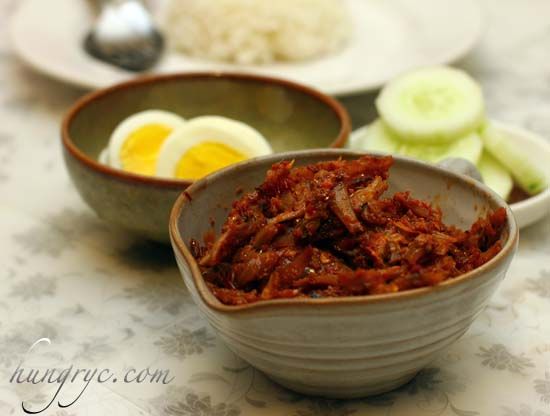 Last Saturday, we woke up to smoky air that had permeated into our rooms, even with all the doors and windows shut. And the air quality was only moderately hazardous in KL, can't imagine what it's like for people down south where the API reading had spiked at 746 in Muar. But it's Saturday, and the weekend is too precious to hole up in the room… the theory being that Saturday is the day for chores, errands, music class… what have you… so that Sundays can be left free for us to do nothing. It doesn't always pan out that way, but I adhere to this belief and does my laundry religiously first thing on Saturday mornings.
We usually don't bother with breakfast – that's a Sunday ritual. But today I wanted sambal ikan bilis, a craving brought on by a whiff of nasi lemak fragranced with ginger and fenugreek (but it could well have imagined it). That aroma is a signature of Northern-style nasi lemak, which is usually sufficient with just a dollop of sambal ikan bilis, hard-boiled eggs and cucumber. Unlike in Klang Valley where people seem to like their nasi lemak laden with chicken curry, beef rendang, limpa sambal and the works, in Penang we like our nasi lemak simple and light with maybe a small slice of fish fried with tamarind.
Nasi lemak sellers in KL also don't always offer sambal ikan bilis. They serve the rice with sambal and deep-fried ikan bilis, but they don't always have sambal ikan bilis. It's two different thing. Sambal ikan bilis is made with ikan bilis that is not fried, which absorb the flavours of the sambal and tamarind juice. The sambal is in turn flavoured with the depth of the ikan bilis' saltiness. It's different from deep-fried ikan bilis mixed with sambal, though that is also delicious.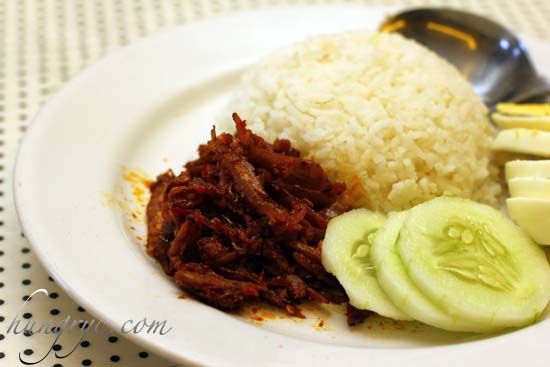 This morning, it felt like I needed a sambal ikan bilis dose. So, after debating for 20 minutes on whether it was more prudent to just drive out and buy two packets of nasi lemak (even without the sambal ikan bilis) or to start the weekend peeling shallots, frying sambal, cooking rice, boiling eggs… and then washing and washing… But then I thought I'd have done making the dish in the time I was considering it, so I guess I just got up and did it. Thinking too much is overrated anyway, and a waste of precious weekend morning.
Because the ikan bilis doesn't require frying, this is actually an easy dish to make. I went through a stage when I seem to always sambal ikan bilis in my fridge, and serve that meal after meal. All you need really are shallots, dried red chillies, ikan bilis, a big onion and tamarind. The most tedious chore used to be peeling and cleaning the ikan bilis, but these days ready-peeled ikan bilis is easily available.
I don't make this sambal too hot as my 11-year-old daughter is starting to take to chillies and curries. She started off with a tiny speck of sambal and a sip of water after every mouthful of rice. But by the second or third samabal ikan bilis meal, she can even eat a spoonful without rice. Maybe it'll be her comfort food too.
RECIPE
6-8 shallots
15-20 dried chillies*
2-3 tablespoons oil
one big onion, sliced thinly
200g peeled ikan bilis, soak in water and drain
a tablespoon of tamarind, soak in 1/2 cup water to extract the juice
salt and sugar, to taste
Blend the shallots and dried chillies finely.
Heat up the oil, and fry the blended ingredients over low heat, stirring from time to time till it's fragrant and the oil floats to the top.
Add the scliced onion, and fry for about three minutes.
Add the ikan bilis and increase the heat to medium.
Fry for another three minutes to mix the ikan bilis and sambal.
Add tamarind juice, and bring to a simmer. Then, lower the heat and cook till the oil floats to the top.
Cook it to the consistency you like – if you want a dry sambal, cook it longer.
Season. Add salt sparingly as the ikan bilis is salty. I like my sambal sweet, so I use more sugar.
Serve with rice, or use as sandwich filling.
* To remove the seeds, snip the dried chillies into small pieces and sieve out the seeds in a colander. Then, soak the dried chillies in hot water. The remaining seeds will sink to the bottom of the bowl and the chillies will float to the surface. Use a slotted spoon to remove the chillies.