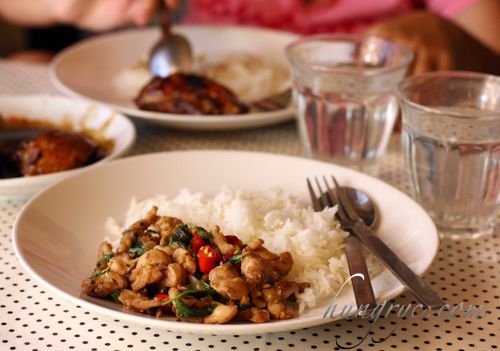 We had just come back from a week's holiday to Thailand, and of course we had a great time. This was my third trip to Bangkok this year, and I wasn't fully looking forward to it. The previous two trips were rushed work trips, and I had a hard time figuring out why I had loved Bangkok before. The city just seemed too busy, too congested, too chaotic. It still feels that way this trip… but I was way more relaxed and surrounded by my family. My mother held tight to my daughter, my brother planned everything, my Thai sister-in-law knew the best food to eat, my sister was always quick to pay for everything (hehe…) – so all I had to do was try to not cough my lungs out (flu and cold from Malaysia).
It's of course easy to eat well in Thailand. Cheap tasty food abounds on the streets, and in the malls, and on the beaches.
One of my favourites has to be the iced coffee in 7-11, and in the mornings coffee made with fresh milk from the coffee stalls on the streets.
I also like papaya salad, som tam, although I can't brave the local version – mine is always with only one chilli. So, my sister-in-law and niece have theirs full-throttle and burning hot, and they order a mild one for me.
My mother and daughter were also quick to love the pancakes from the stall. The most popular pancake is made with banana, fried with loads of margarine, and sloshed with condensed milk.
What I like most are the noodles – beef, pork, duck, fishballs – I didn't care as long as I get to add my condiments of fish sauce, (tiniest bit) of chilli powder, vinegared chilli and sugar. I had noodles obsessively for a few days till I suddenly craved for rice.
One late afternoon in the seaside town Cha Am, we walked around looking for a proper eating place where we could order rice and dishes – with our very grumpy mother who wasn't amused we had "starved" her grand-daughter (never mind that she had a full beakfast and opted to skip lunch under the beach umbreallas because she had to sit on the beach and let the waves washed over her for hours).
On the first evening in Bangkok, we had this tasty dish of lala cooked with basil leaves. With that flavour in mind, I ordered chicken with basil, and told the waiter no chilli. My threshold for hot food is pretty low these days, but it was a mistake forgoing chilli in Thai dishes. We pretty much left that dish untouched. And in typically obsessive fashion, I had to order rice with chicken basil (with chilli) for dinner to cancel out that unappealing dish. Chicken with basil only works with chillies, and of course birds eye chillies.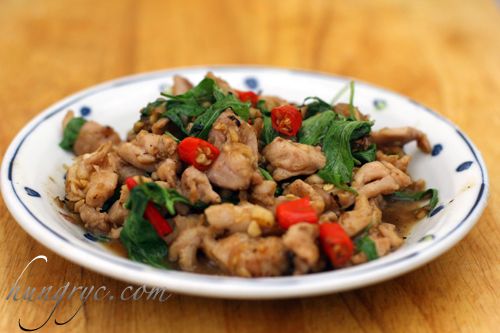 Part of my post-holiday blues includes missing Thai food, and I wanted more of that chicken with basil. Plus I have a few Thai basil plants in my garden that I haven't really cooked with. I also like the idea of trying out more one plate dishes for meals at home, as I tend to cook way too much because I don't know how to cook for one or two. So, for our Saturday lunch, I made a rice and basil chicken dish for me, and a teriyaki chicken for my daughter. I love the fragrance and taste of Thai basil, and how easy it was to make this dish, so this recipe could very well be a keeper. The teriyaki chicken is good too but that'll be for another post.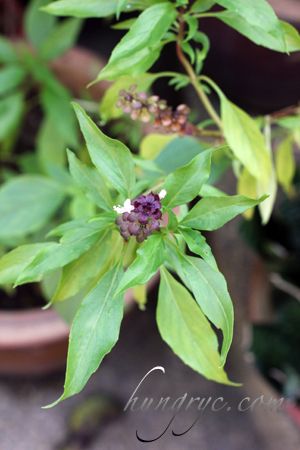 RECIPE
1 tablespoon cooking oil
2 cloves garlic, chopped finely
1 shallot, chopped finely
4-5 birds eye chillies, or according to taste
1 chicken thigh, deboned and cut into bite sizes
1 teaspoon oyster sauce
1 teaspoon soy sauce
I tablespoon fish sauce
1/4 teaspoon sugar
a handful basil leaves
Heat the cooking oil, and saute the chopped garlic and shallot.
When fragrant, add the chicken and stir.
Then, add the seasoning, and stir. Add a little water if the mixture is too dry.
Stir-fry, and add the basil leaves.
Check the seasoning, and adjust accordingly.
Serve with rice.