This dish – tau eu bak (soya sauce braised in soy sauce) is always a crowd pleaser. Most people I know like dish this very, very much. It's comfort food at its best – belly pork slowly braised till tender, with layers of fat that melt in the mouth, in a light gravy flavoured with soy sauce and enriched by the pork, and with the barest whiff of garlic. My mother makes this often, and serves  it with rice and porridge. She always adds hard-boiled eggs, and sometimes potaoes or bean curd puffs.
It wasn't my favourite dish.
I was into curries, and whenever she cooked tau eu bak, it meant there'd be no curry on the table.
I only ate this if there was sambal belacan as accompaniment, and maybe go fry an egg for myself.
But then we all grow up, and have to leave behind those blissful days of sulking at the table because the meal was not to our liking.
Now, it's my turn to cook, and please the people I cook for.
And they of course like tau eu bak.
I did the smart thing – asked my mom to cook it for us to take home virtually every trip back to Penang.
She'd make me stand behind her as she cooked this dish, repeating all the while how she didn't understand why I couldn't make such an easy dish.
"See, it's the easiest thing to cook. I make this all the time," she'd say.
I now suspect she didn't notice all the times I said I hated tau eu bak (emotions are extreme when you are a kid).
Could that be possible? But then again, I spent many Sundays (for years) sulkily munching on white bread because I hated porridge, and they blithely ignored me and continued with porridge lunches on Sundays.
Oh well…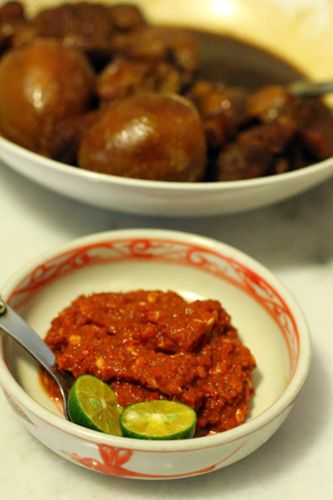 I didn't attempt to make this for the longest time, and my first few attempts didn't turn out so well. But there was no ignoring how my daughter is partial to this dish, and the ones we have eaten outside were too diluted and the pork not nearly tender enough. So I cook this often now too, because it's actually really easy (it's true).
And my friend Niki loves this – the first meal we had on a trip to Malacca (where we ate ourselves silly) was to a Chinese shop where everyone was wolfing down rice with tau eu bak mixed with curry chicken gravy, and Niki swore it's the best meal ever. And since I have been neglecting my duty of posting recipes he can cook far away in London, I am posting this recipe because this dish would be perfect for cold winters.
And also because this is Jason's favourite dish too.
Still not mine – in case anyone's interested to know. And I still need sambal belacan with my tau eu bak.
RECIPE
1 tablespoon of oil
2-3 cloves garlic, smashed
600g pork belly (must have the layer of fat), cut into small even chunks
1 tablespoon dark soy sauce
3 tablespoons light soy sauce
1 teaspoon ground white pepper
1 teaspoon sugar
1 litre water
salt, to taste (and if you need it)
3-4 hard-boiled eggs
In a pot, heat the oil and saute the garlic till fragrant.
Add pork belly, and stir till the fat seeps out, over medium heat.
Add the soy sauces, ground white pepper and sugar, and stir over high heat, for 5 minutes.
Turn down the heat to medium. Add water. Let it come to a slow boil.
Then turn down the heat to low, and let it simmer for between 45mins to an hour, or until the meat is tender to your liking.
Ten minutes before it's done, add the hard-boiled eggs.
Note: Even though the stew doesn't look like it's dark enough, don't add more soy sauce in the beginning. It'll darken as the meat braises slowly, and the soy sauce and sugar caramelises. If you want the sauce to be thicker, braise it with the lid open. You'll know it's almost done by its aroma. And when you have cooked this enough times, you could even tell what seasoning to add more of by its aroma.