I reconnected with some old friends from my Convent schooldays – they were girls I went to primary and secondary school with, and we grew up together in stuffy pinafores and read Nancy Drews, and played through endless recess times. So it's strange how we drifted apart so completely – at least I did, and I hardly kept in touch with friends from that period. Many were close friends, and yet my closest and oldest friendship started from university, not from those schoolgirl days. If only they had Facebook then…
Those girls are now grown women, with children and husband and flung in different corners of the world. I recognised them immediately on FB, though I suspect I could have passed them on the streets with no inkling of our connections. I didn't think I'd ever forget things, but some memories are vague and I only have snatches of impressions from those days. It really seemed like a different lifetime ago.
I was also struck by how 25 years have just gone by, and we are all now in our 40s. That means we are old, though I don't feel how I thought an older person is supposed to be… sure, I am all responsible and sensible (ahem), but probably not as wise as I should be, and still not quite settled, and just a little restless still…
The one person who wouldn't think I am old is my mother… she still thinks she needs to cook for me, and pack for me ingredients to stock up my fridge every time I go home. There'll be fish (it's fresh), pork ribs (for nourishing soups), prawns (for fried rice on nights I work late). There'll also be dried stuff like black fungus, herbs, lily's bud, mushrooms. And she'll always ask if I need to replenish my stock of five spice powder. I have never bought five spice powder in KL; my mother always buys them for me and it has to be from a Chinese medical hall.
Five spice powder is a mix of star anise, cloves, cinnamon, Sichuan pepper and ground fennel seeds. It's red in colour and lends its disctinctive aroma to Chinese food. In our kitchen, we use it mostly to marinate pork and chicken. It's an essential ingredient in lor bak (meat rolls), and my favourite fried chicken recipe is the one simply marinated with a dash of five spice powder, light soy sauce, white pepper and a little sugar.
My favourite recipe using five spice powder is for pan-fried pork chop; it tastes a little like char siew but it's a so much more simpler version. You just need to buy belly pork with a layer of fat, and marinate it overnight. Then, it's just a matter of pan frying them. You could roast it too, but pan frying gives it nice crispy edges. Then, slice thinly and serve up. With the five spice powder, this is a very aromatic dish.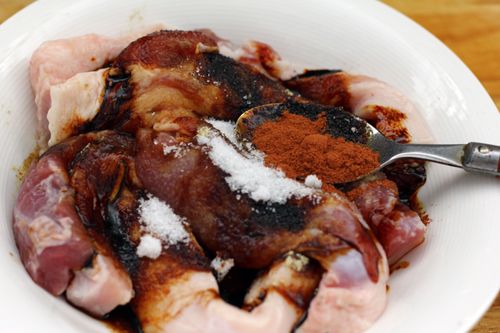 RECIPE
600g pork belly, cut into strips
1 teaspoon dark soy sauce
1 tablespoon light soy sauce
1/2 teaspoon ground white pepper
1 teaspoon sugar
1 teaspoon five spice powder
3 tablespoon cooking oil
Marinate the pork with the rest of the ingredients, except the oil, overnight.
Heat the oil in the pan over medium heat and pan fry, turning it over after 5-7 minutes.
Leave for 10 minutes before slicing it.