WHEN my friend and former colleague Niki told me he wanted recipes so he can cook his own meals as he'd be a poor student in London, I didn't take him all that seriously. I didn't think he'd actually cook regularly, partly because he was never that keen a cook, and partly because I have never cooked regularly in my life. I am strictly a weekend cook, and was always fortunate enough to have either my mother or my aunt cook for me on weekdays. I don't remember what I ate during my university days, probably loads of mixed rice and instant noodles with an egg.
But Niki has just told me this morning that he cooks six to eight meals a week, and he needs more variety… and I have only given him two recipes. So, out of guilt, I am posting this recipe without being distracted by the ten other "important" things I think I should attend to instead of sitting down to upload pics and write an entry. It's almost 7pm in KL anyway, which means I'd only be sitting in a traffic jam and feeling suicidal/homicidal.
This is soy sauce chicken, a common homecooked dish, and there are many versions. My mother's soy sauce chicken is with thick slices of old ginger and the lightest of soy sauce. Mine is with julienned young ginger and diced onions, and a thick sauce. I like both versions, but I of course cook the one my daughter likes best which is the latter. It's almost comfort food, and nicer the following day. It's good with rice, and stir-fried greens. I like brocolli, so here are two recipes to make up for a month of tardiness.
But while I was not blogging, I was living my life :-P (that's just going to work, watching fireflies in Kuala Selangor, taking a friend to Penang and feeding him properly, adoring my nieces, putting up a precious painting of C by a friend, putting up a hammock chair, and going broke cos I had to change my car tires and bought shoes (that cost two tires) and new (second-hand) lens that I am loving.) Ok, I am broke and we have to eat at home for the next 20 weekends, and this dish will definitely be on the menu.
RECIPE
SOY SAUCE CHICKEN
Cut a chicken into medium pieces, and marinate with a tablespoon of soy sauce, a teaspoon of dark soy sauce, a tablespoon of oyster sauce, a tablespoon of sugar and half a teaspoon of ground white pepper. Adjust the seasoning according to your taste. Leave to marinate for at least half an hour.
Julienne a medium knob of ginger (about 2 inches), and diced a medium onion.
Heat up 3 tablespoon of cooking oil, and saute the ginger and onion till aromatic.
Add the chicken without the marinade, and stir to mix with the ginger and garlic for about 3 minutes.
Then add the marinade, and 1/2 cup of water.
Bring to a slow boil, and then lower the heat.
Cook covered for about 15 minutes, or until chicken is cooked.
Test, and adjust the seasoning accordingly.
STIR-FRIED BROCCOLI WITH OYSTER SAUCE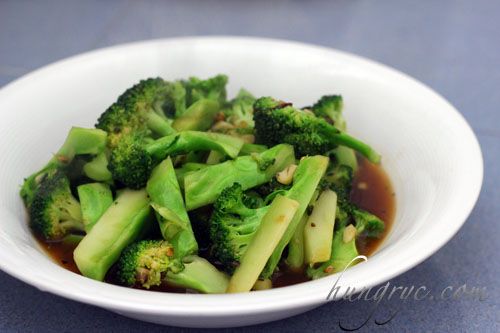 Cut the broccoli into medium florests. Heat a tablespoon of cooking oil, and saute a teaspoon of chopped garlic. Throw in the brocolli and a tablespoon or two of oyster sauce, and stir-fry over high heat for about three minutes. Add 1/4 cup of water, and add a thin mixture of starch flour (1 tablespoon of starch flour to 1/2 cup water). stir, and serve hot.