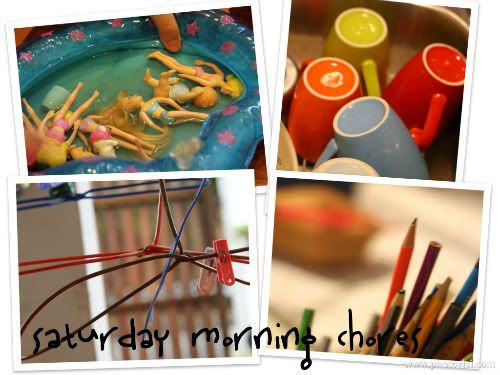 I like Saturday mornings. The work week is over, and it's too soon to worry about Monday.
I don't do anything exciting though – our most adventurous gig is a trip to Carrefour and maybe a detour to Frutti Tutti. Saturday mornings are for putting my life in order, ie ensure I have clean clothes and clean coffee mugs for the week ahead.
On weekdays, there is no time for chores because it's straight to homework (which I supervise reluctantly but my daughter is obssessed over) and then to bed (or rather watching tv downloads). Besides, I plainly don't like housework, so I am tardy at it. Saturday mornings are for washing up an entire week's laundry and coffee mugs. I know it's no hardship to wash a mug a day, but I am always rushing out in the morning and I swear I don't enter the kitchen after work… my mom has given up on me, and so should everyone else :-p.
But I do like cooking, and I try to feed my daughter well. On weekends, I try to cook her different kinds of food – ie not rice. Her favourite is steak – sprinkled with a little salt and black pepper, pan-fried and dabbed with butter. She sits at the table, and finishes her steak every time, and lets nothing distract her from her red meat. We got a bounty of good cuts of one-inch thick rib eye steak, and she has been feasting on them. But this Saturday, it was gloomy and rainy, and I felt like a beef stew.
I looked through some cookbooks for a recipe, but I don't have all the ingredients – no celery, no red wine, no beef stock, no tomato paste, no bouquet grani. And since I was not inclined to leave the house, I just made do with what I had, which were potatoes, carrots, onion and rosemary. And as I was rummaging through the fridge, I found lemons that badly needed to be rescued from a purposeless life. So I made lemon pasta for myself instead. It's Saturday morning, and I could afford to do detours.
I have no recipe for this stew. I start by browning the beef cubes, and setting them aside. Then, I fry some onions, add the potatoes,carrots,and tomatoes, some seasoning like HP sauce, salt and pepper. Throw in the beef, and fry them around till they are all aromatic. Add a sprig of rosemary because that's the only herb still alive in my garden. Then, I add a cup of water. I then put the pot in the oven at 180C for an hour and a half, taking it out occassionally to stir it.
I left it in the oven too long, and it dried up a bit too much. But the beef was tender, and the carrot had absorbed all the good flavours (pity I found only 1 carrot in my fridge… I feel like cooking this again just to eat the carrot). My daughter loved the potatoes most. She would rather have the beef stew (or is it a casserole?) with rice or bread, but the only choice I offered was spaghetti. And we also discovered she likes lemon pasta (that's just lemon juice, lemon zest, salt and a little cream, with loads of parmesan cheese).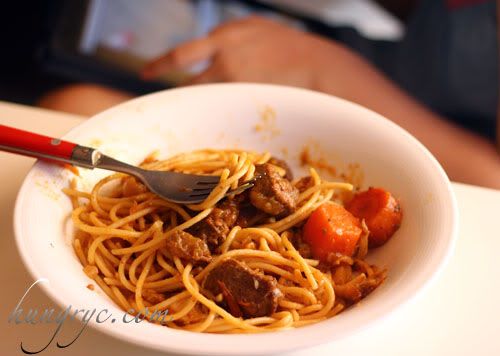 I think the kid prefers pan-fried steak to this stew, but she wasn't complaining. She didn't devour her beef with the same fervour she reserves for a good steak, but my ego can withstand the lack of accolade. My life mission now is to train her to do dishes… it's not child labour to make a ten-year-old wash and scrub, right?