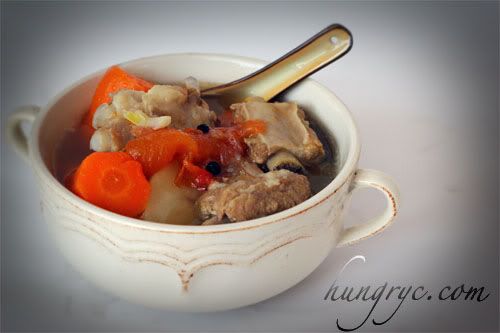 There was once upon in my life when I had an obsession with cookbooks… I bought cookbook after cookbook because there simply wasn't a cookbook I didn't think was uninteresting. I had a list of cookbooks I absolutely must have, and at least a cookbook I was reading cover to cover. There were cookbooks everywhere at home; beside the bed, under the bed, in the living room, in the kitchen, in the spare rooms (I have more than one), and even in my mother's house in Penang.
And I was of course too busy reading cookbooks to actually cook from them… although there were some recipes I wouldn't have tried if not for those cookbooks.  I went through a Claudia Roden phase, so I cooked Middle Eastern for awhile, and a  Madhur Jaffrey phase when I tried quite a few lamb recipes. I am now re-discovering Donna Hay, an interest rekindled not by her cookbook but her iPad apps… but that's another story – suffice to say my favourite dessert recipe is her lemon meringue pie.
But for all my cookbooks and bouts of experimentation, the dish I cook most often is A-B-C soup.  I don't know why it's called A-B-C soup – it's what my mother and aunts call it – but just maybe, it's because it's as easy as A-B-C to make. Sometimes it's the only dish my daughter is fed with, and sometimes she is fed that weekend after weekend – especially when I am too guilt-ridden to feed her fast food and hawker food and too busy (ok, lazy) to cook anything more elaborate. The best thing about A-B-C soup is it's not too shabby – it is wholesome and nutritious, and tastes good. And if the kid refuses to eat the potatoes and carrot, you can always mash them up, add some minced pork and onions, and make cutlets.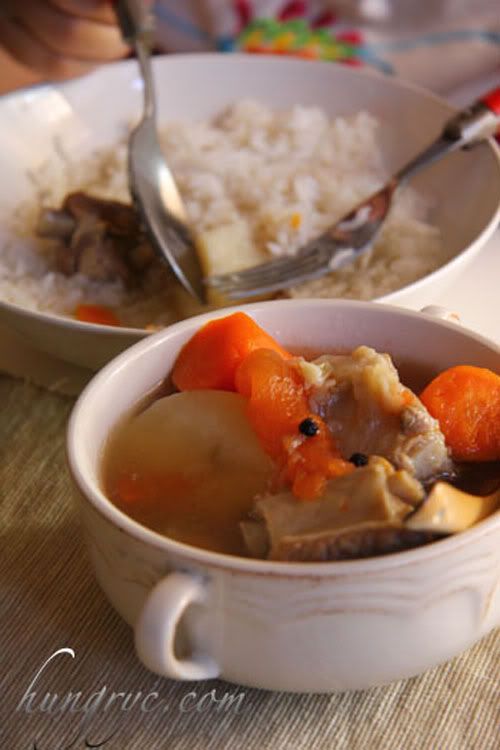 There really isn't a recipe to this soup; it's basically boiling together meat, potatoes and carrots. I like to use pork spare ribs or chicken, and I also usually add a big onion, two tomatoes and half a teaspoon of black/white peppercorns. I usually use about 500g pork ribs or half a chicken, with 2-3 potatoes and a big carrot. I then boil everything with about half a pot of water for about an hour or so – bring the water to a boil, and then add the ingredients. Then, turn down the heat and let it simmer slowly till the meat is tender, and the potatoes and carrots soft. Serve hot with rice, and a saucer of light soy sauce and cut chilli padi for the meat.