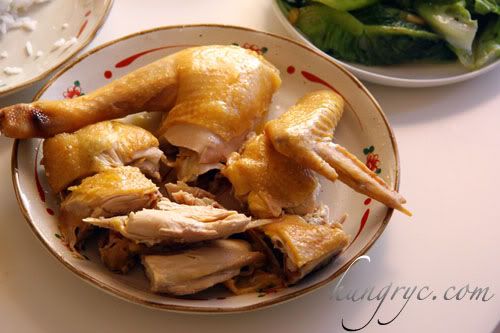 I didn't think my friend Niki Cheong was all that serious about cooking, but he has been making the one bowl rice I posted eons ago regularly  (someone has been coming to me and repeating the title of my last post… takes nagging to a whole new level… she needs to nag me to loftier goals).
And when Niki told me his "one-bowl rice" is in the microwave cooking even as we were on whatsapp, I promised to post another recipe – out of guilt and being flattered someone tried my recipe…but of course I got distracted by zombies on my roof (seriously googling and planting), cats above my ceiling (seriously freaking me out) and a bitch on my tail (seriously pathetic). I have also been watching Walking Dead, not the best viewing choice with cats scraping and clawing away on the ceiling but wth…
Anyway, I am up-ping the notch and Niki's Nikella-ness in the kitchen… with a recipe for chicken rice. It's the easiest chicken rice (and doesn't taste too bad) ever – just bring a big pot of water to the boil and then drop a whole/half chicken in with a knob of ginger and a stalk of spring onion. Scoop away the grit that floats to the top, and then turn the heat all the way low, cover and leave it be for half an hour or so. The chicken should be cooked by then. Don't be tempted to turn up the fire because it should be cooked slowly and gently.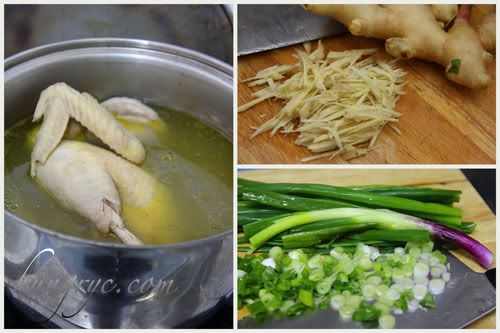 Remove the chicken, and drain. Leave aside. When it has cooled down, chop and serve with rice.
Use the remaining stock (in place of water) to cook the rice, to make the accompanying condiment, and boil down further to serve as soup.
So, boiling chicken and cooking rice are easy enough.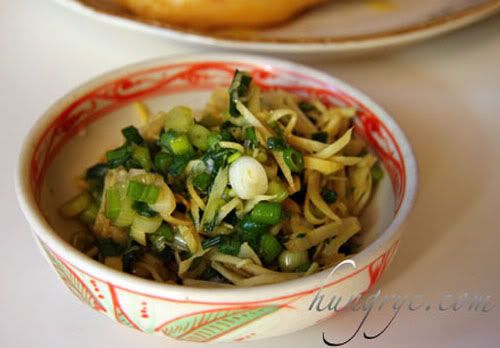 What makes this a good meal is the condiment, and it's not your usual chilli and garlic sauce. I'll post the recipe for chilli and garlic sauce but I have only ever made it by instincts and lots of tasting and correcting – that's basically a handful of deseeded red chillies, 5-6 cloves of garlic, sugar (lots), rice vinegar and a pinch of salt.
I like this chicken rice with a condiment of spring onions and ginger, fragranced with sesame oil. I cook chicken this way, or steam it, just so I can have lots of this condiment. It's pretty common in Hong Kong and Taiwan, but not so much in Malaysia where we prefer chilli sauce.
I make this condiment without a recipe too. But here are the steps, adjust the amount of young ginger and spring onions accordingly.
RECIPE
SPRING ONION AND GINGER CONDIMENT
Ingredients
2 big knobs of young ginger, about 1ocm,  – scrape off the skin, and julienne
2-3 stalks of spring onion, sliced
1/2 tsp sugar
1/2 tsp salt
2 tablespoon sesame oil
2-3 tablespoon chicken stock, from boiling the chicken
Mix the ginger, spring onion, sugar and salt. Heat the sesame oil over low heat till aromatic – it burns easily and quickly, so don't leave it for even a second.
Pour the hot sesame oil over the mixture, and stir.
Check the seasoning, and add the chicken stock.