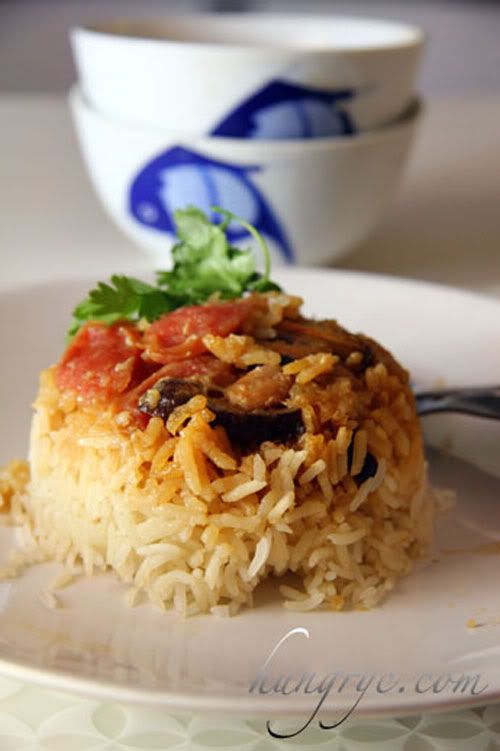 I started a blog with grand promises of providing easy recipes for a friend who was overseas and missing home-cooked meals. I think I must have gone on and on about how cooking is not that hard… (which is true), but blogging is a little hard going these days. Another friend recently went overseas, and I promised to post easy recipes he could use – he has been away two months and has complained about tasteless English food, and I have yet to post a recipe.
Anyway I somehow got my act together (and it's a three-day weekend), and so here goes the first easy recipe…
This is actually a one pot rice that my mother used to make in a rice cooker. It's a common Chinese dish, and the hawker version is the claypot chicken rice. This dish is essentially chicken marinated with soy sauce which is then added to the rice, and cooked together. It tastes much better if you add Chinese sausages and mushroom, and a small piece of the best quality salted fish.
As I was only cooking for two, I prefer to steam the rice in individual bowls. You could also microwave the rice instead of steaming it.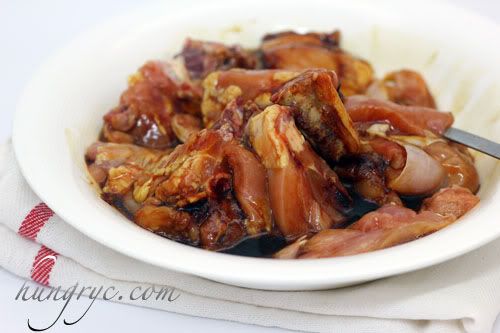 First thing to do is to marinate the chicken. I usually use chicken thigh and drumstick, and it's better to debone them. You could also use chicken breast fillet for a healthier version. The marinade is usually light soy sauce, dark soy sauce, oyster sauce, ground white pepper, a little sugar and some oil. If you don't have all these condiments in your pantry, just use light soy sauce, salt, white pepper and oil. Sesame seed oil lends a nice aroma, so use it if you can. It's also good to add some ginger juice. This is home cooking at its simplest, so just make do with what you have.
Chicken is the main ingredient, but it's nice to add Chinese sausage and mushrooms. You could also used waxed meat, like duck, that's available during the Chinese New Year season.
Once you have marinated the chicken for about half an hour, it's just a matter of assembling your bowl. Put the chicken, mushroom and sausages at the bottom of the bowl. Then spoon the rice, and add enough water to cook the rice. Steam over high heat for half an hour. You could also microwave it, and cook it like you'd cook rice. It should take about 25 minutes.
My mother cooked this dish in the rice cooker. She'd stir fry the marinated chicken with the mushroom and sausages, and only add them to the rice after it's half cooked. I prefer the rice steamed because it's much softer, but cooking it in the rice cooker is better if you are catering to a bigger family.
I like my rice with lots of chopped spring onions, and with soy sauce and bird's eye chiili. My daughter's plate must be clear of even the tiniest speck of green, so I suspect that's how the boys would like it too – one less item in their shopping list.
RECIPE
1 bowl rice (makes 4 bowls)
2 cups rice, washed
1 tsp salt
1 tsp sugar
300g boneless chicken
4 dried Chinese mushroom, sliced
1 Chinese sausage, sliced
Marinade for chicken
1 tsp light soy sauce
1 tsp dark soy sauce
1/2 tsp ground white pepper
1 tsp ginger juice, or 4 slices young ginger
1 tsb oyster sauce
1 tablespoon oil
Add 1 tsp salt and and 1 tsp sugar to the washed rice.
Marinate the chicken for 15-30 minutes, then add the mushroom and sausages.
Divide the mixture into four, and spoon them into a bowl.
Add half a cup of rice to the bowl, and add water till about half the bowl (abt 1/4 cup).
Steam for half an hour, or until rice is cooked.
Garnish with chopped spring onions and sliced red chilli. Serve with a saucer of soy sauce and chopped bird's eye chilli. You could also make sauce by mixing together 1 tablespoon of light soy sauce, 1 tablespoon of dark sauce and 1 tablespoon oil.