I tried making ayam kalasan because I liked the recipe when it was first recited to me – boil the chicken in coconut water, and then deep-fry. It turned out good the first time I tried it, and the recipe is in today's StarTwo. Fried chicken is my all time favourite, and this Indonesian version is full of flavours. Even the breast meat is tender because it's gently boiled. But the next time I make it, I'd probably just use thighs instead of a whole chicken.
But as delicious as the ayam kalasan is, it's not why I wiped off two plates of rice. It's the sambal tomat, recommended as the accompaniment for the chicken, that really whetted my appetite. I have always liked a little condiment or side accompaniment to my dishes. I actually ask what kind of accompaniment is available before I order my food – pickled green chillies for Cantonese stir fry, sambal belacan for nasi pattaya, pan mee, Thai fried rice, chilli and garlic sauce for chicken rice, garlic sauce for loh mi, shrimp paste for asam laksa, mint for lamb chops, mustard for roast beef….
At the very least, I need my saucer of soy sauce and chopped bird's eye chilli.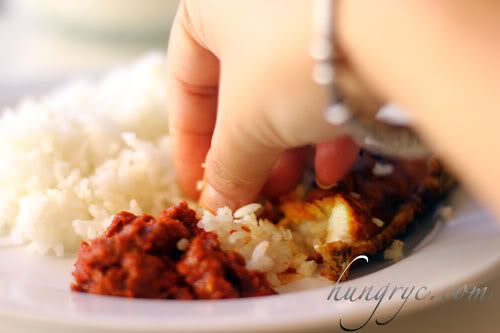 Sambal belacan is a staple; I always have a jar in the refrigerator. A simple meal of fried fish and sambal belacan with a little kalamansi juice is satisfying enough for me. It's also good with fried rice, or fried noodles. Sambal belacan is also the base for kerabu..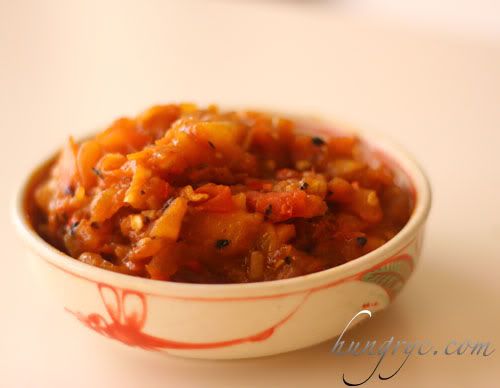 Lately, I am into sambal, Indonesian-style. It started when I began eating at Nasi Padang stalls, and I found myself looking forward more to the sambal merah and sambal hijau than the curries. My friend's mother shared her sambal merah recipe, and it has become one of my favourites. This sambal tomat, with tomatoes as its main ingredient, is also fast becoming a favourite.
I followed a recipe the first time I made this, but I have since just made it intuitively. I use cili padi instead of red chilli because I love how its sharpness laces the sweetness of the tomatoes. You could adjust the flavours to your liking, use more tomatoes for a gentler sambal or more chilli for a sambal full of kick.
RECIPE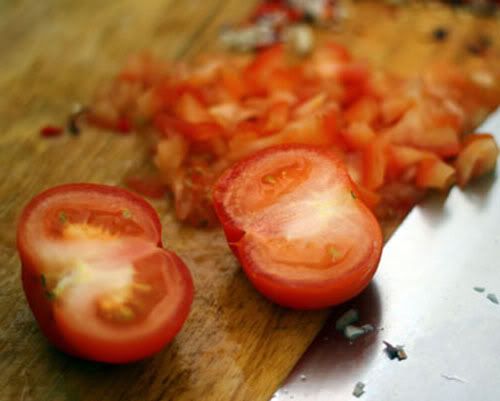 6-8 red chillies, or 3-4 bird's eye chillies
2 shallots
1 garlic
1 tablespoon cooking oil
2 tomatoes, chopped
salt and sugar to taste
Pound chillies, shallots and garlic roughly.
Heat the cooking oil, and add the pounded ingredients and chopped tomatoes.
Saute till tomatoes are soft.
Season.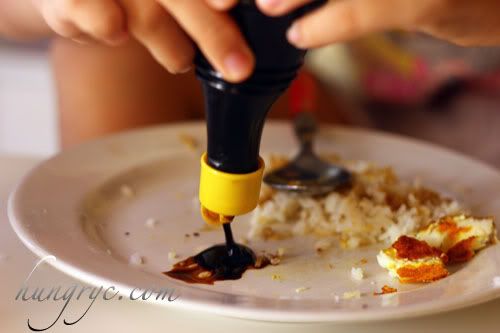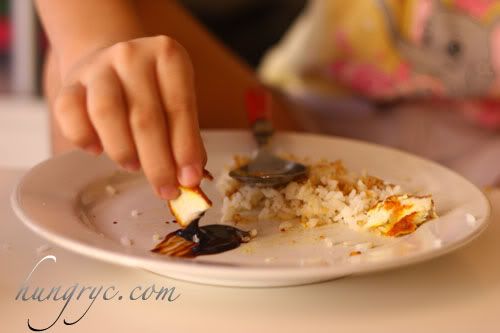 My daughter is of course unimpressed with my sambal tomat, sambal belacan, sambal merah…. whatever; they are all too hot for her although she has no such problem when it comes to curry chicken or beef rendang. She is happy with kecap manis… another obsession I think I taught her.j