Milan was all grey and cold in late winter, and I love it. I was there earlier this year many many months ago – my blogging mojo has kind of waned this year, and that's why this late posting – for Milan Fashion Week. It was my first trip to Italy, and I had expected to love Italy – everyone else raves about it, and the photographs are always beautiful.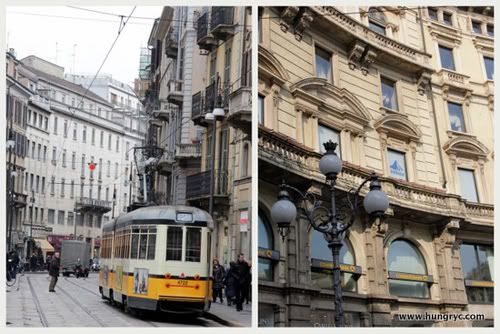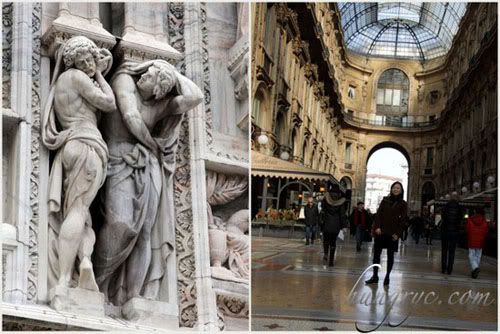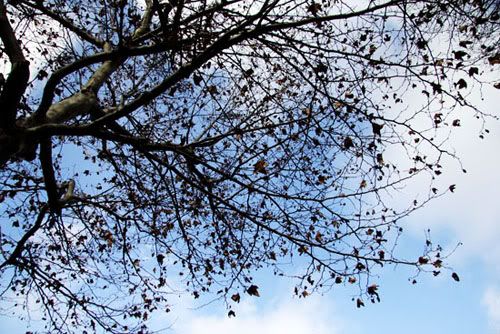 It was Milan Fashion Week, and lots of fashionable people were in town for the shows. I think I went to every designer shop in the fashion district.
I was only interested in the fashion for so long… I like nice things, but the fascination wears off when the price tags are ridiculous (as in I couldn't afford them, and I'd rather buy a new laptop or a macro lens rather than pay the same amount for a handbag I'd have to love).
It's true though what they say about Italians being stylish – they make it seem so effortless, a red silk scarf tucked around the neck of a man bundled up in a grey overcoat, or the guy with the matching coral spectacle frame and tie, and the women with their gorgeous boots, bags and clothes. Sometimes, it's in the little details but mostly it's about caring about their appearance as though it's the most natural thing to do. I want to look like that chic woman with the shades, and I love the redhead's hair and handbag. I want to be cool like the guy on the scooter, and carry off a black shirt and belt like the blonde.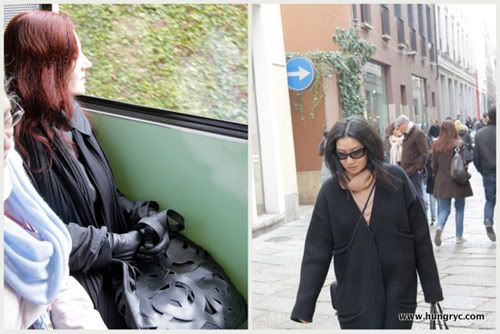 There are many things to enjoy about Milan – the beautiful architecture, the stunning Duomo cathedral, the Galleria Vittori0 Emanuelle II. The weather was a cool 10 C, so it was nice to bundle up and walk outdoors in the cold. Most people could speak some English, and my few qords of Spanish actually got me by. And of course the food is good, as to be expected in Italy. Italian cuisine is so universally loved, and pasta has become such a staple it almost didn't feel like we were eating in a foreign country.
I also love the pizza – I love anchovies, so I ordered one with anchovies, capers and olives – in a pizzeria with the most friendly people.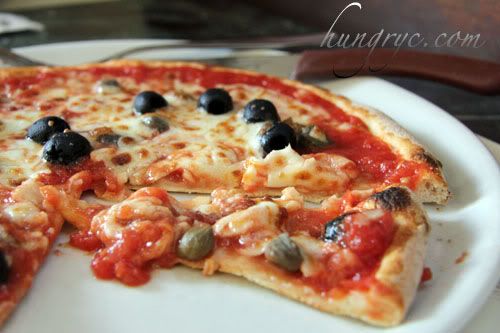 There was a big supermarket in front of our hotel, and I browse through the aisles everyday I was there… oggling at the groceries, and to stock up on my staples – olives, strawberries and taralli (a pretzel-shaped bread that I just couldn't stop chewing on).
It's easy to eat well in Milan. There are delicatessens on every other street to get sandwiches and pastries. It's also easy to make your own meals as it's easy to buy bread, cured meat, ham, antopasti etc in the supermarkets. But it's also nice to eat in trattorias and restaurants; a decent meal is actually pretty affordable.
I had some good pasta dishes in Milan, but I don't think I am likely to start cooking filled pasta like ravioli or tortelloni as much I as loved them. But there was one dish I had in Milan that I loved and tried making when I came home. It's the simplest of dishes – roast broccoli, which was new to me because I usually have my broccoli steamed or stir-fried. But when roasted with some butter or oliv oil, the broccoli turned sweet and nutty.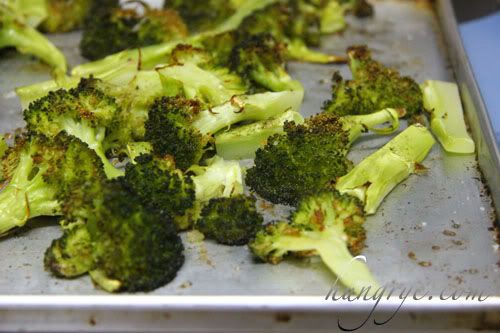 RECIPE
Roasted Broccoli
2 heads broccoli, separated into florets
1 tbsp extra-virgin olive oil
1 tsp sea salt
1/2 tsp ground black pepper
2 cloves garlic, minced
50g shaved parmesan cheese
Method
Preheat the oven to 200°C.
Toss the broccoli florets with the olive oil, sea salt, pepper and garlic. Spread the broccoli out in an even layer on a baking sheet.
Bake in the preheated oven for 15-20 minutes or until florets are tender enough to pierce the stems with a fork. Sprinkle with the cheese.
Remove and transfer to a serving platter.