THIS tattered recipe book is almost 30 years, yes I am ancient. It was the first thing we had to do when we started our Sains Rumahtangga (SRT) or domestic science classin Form One. At that time, students were streamed into either Commerce or SRT. Traditionally the best students study commerce, and the weaker ones learn domestic science. Maybe the smart ones were being equipped with skills to conquer the commercial world, and the less bright ones are supposed to prepare for marriage and looking after the household.
The year that I entered Form One, my school decided that it was not such a great idea to segregate students like that – and they started a new policy whereby the first class did SRT, second class commerce, third class SRT…. you get the idea. Of course, the idea didn't go down well with many students and parents, especially the top scorers. There was a flurry of furious parents in school that first week requesting that their daughters learn more useful stuff than domestic science… except for my father who was quite oblivious to how detrimental being deprived from learning to do accounts will have on my future.
I was 13, and I guessed I also didn't care all that much… and besides, all the kiasu girls were gone. I had always helped at home, but it was a bit different learning domestic science formally. I think we learnt theory, and the practical classes were divided into cooking and sewing. I messed up the sewing big time, but the cooking classes were my favourite school periods. I loved the work stations – it was like playing masak masak but with proper tools. It was the one subject I didn't have to study hard at.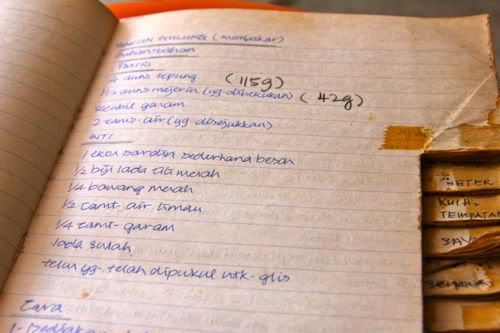 I looked at the domestic science text book recently – my sister who is a teacher bought it for me last year – and realised that it was actually a good syllabus. We were taught different cooking methods, but at that time all I remembered was that I learnt to make food that we didn't cook at home – rock buns, sago pudding, agar agar keminyan, kuih cara…. and of course sardine rolls. It was one of my favourite recipes from domestic science class – I thought it was most sophisticated to be able to make pastry.
For SRP (the equivalent of KBSM now?) we had to do up a menu and cook up a meal all on our own in three hours (I think). I remember I made a fish roll – fish paste rolled up in a thin omelette, and steamed. I thought it was pretty fancy…. I was probably not all that deluded because I scored A1 for my domestic science paper. Then, we all went on to form four and quickly got immersed in new subjects like chemistry and Add Maths (which I loved) and Physics (which I totally sucked at).
But I kept that recipe book, and scribbled more recipes in it. There were many years that I didn't look at that book, but it was always tucked away at some shelf and I never had the heart to chuck it away. I made sardine rolls for our feature in Don't Call Us Chef on road trip treats, and I found myself leafing through the book for other recipes to try. I was of course only limited by whatever ingredients I have at home because it was too hot and muggy an afternoon to go out shopping.
In the end, I decided to make cucur bawang, prawn and onions fritters. It wasn't too bad, but I have had better fritters. And it got me thinking of corn fritters, Padang-style – I'll post that recipe soon…. errrr, maybe later, considering how infrequently I blog now …. yeah, life is not as carefree as in those days when my biggest worry was if my teacher would scold me for my bad handwriting jotting down recipes.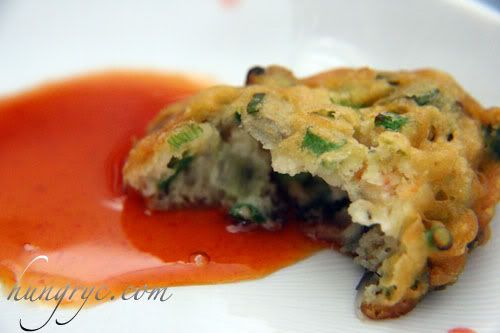 RECIPE
Cucur Bawang
120g flour
1 tsp baking powder
1/4 tsp salt
1 egg
150ml water
160g prawns
1 onion, diced
2 chilli, diced
2-3 stalks spring onion
oil for frying
Sieve the flour, baking powder and salt into a bowl. Make a hole in the middle, and add the egg. Dilute the mixture with the water, and beat the batter well.
Add the prawns, onion, chilli, and spring onion. Mix well.
Heat the cooking oil, and spoon the batter in the wok.
Fry till golden brown.
Serve with chilli sauce.