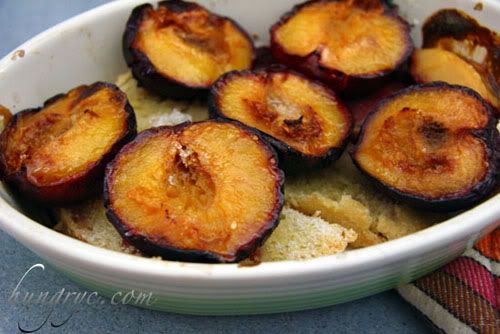 I WAS stressed out over work last weekend; mostly from not being sure of what I had to do. Instead of turning on my notebook and actually doing work, I procrastinated…. by reading cookbooks. I read Nigel Slater's The 30-Minute Cook: The Best of the World's Quick Cooking, and came across his recipe for plum on white bread. I didn't have white bread but I had a few ripe plums that had been sitting on the kitchen counter for days.
So, I started Saturday morning lining a dish with slices of buttered sourdough bread (courtesy of Marty Thymes), and topping it with plum halves sprinkled with sugar. I baked that in the oven over medium heat, and I have something to bring to my friend's house. We had that in the afternoon, after we have coloured each other's hair, trying to keep the grey at bay.
I was still listless on Sunday, but there was kebab to make for StarTwo's Don't Call Me Chef column. The kebab was real quick to put together – it was just a matter of mincing the lamb and chopping up some onions and herbs. With a food processor, that was done in minutes.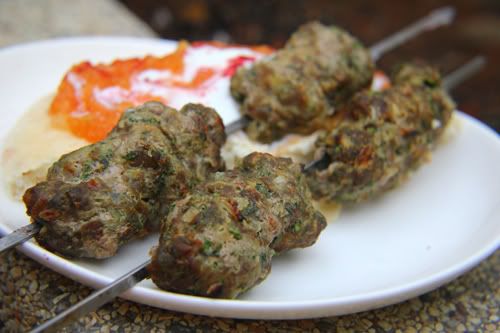 And since I was already in the kitchen, it makes sense to cook curry chicken for lunch. My colleague Kalai gave me her curry recipe – something she has cooked for years and years, and she can do with one eye close – and it actually works for me. As usual, I over-cooked and there was enough for me to have for dinner three nights in a row this week. I worked late and microwaving the curry was the easiest, not that it was so good I had to have it everyday.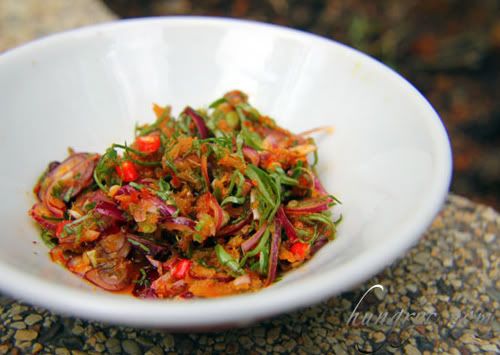 What I could have everyday is kerabu – and last Saturday and Sunday, I made kerabu with cekur leaves and salted fish. Cekur is my favourite ulam; it is aromatic and almost always used in nasi kerabu, and it has a bitter tinge. I find that it's always sold out at the Pasar Tani, and I usually have to go early to buy it.
My sister Pamela solved the problem for me by planting cekur for me, and giving me a pot. I am glad to say I have managed to keep it alive and well. So, now I just have to walk put and snip off some leaves whenever I want this kerabu.
This is my grandmother's recipe, and calls for freshly fried salted fish that is then pounded. I don't use kerisik (fried grated coconut) but you can add some if you want. If you add more herbs and mix it with rice, you'll have a nasi kerabu. But I like this kerabu with only daun cekur.
This kerabu is real moreish because it also has sambal belacan in it. It's sour, sweet, salty… with an aromatic bitter edge. It's not something I'd recommend you make if you are on a diet, because it's best only with rice and I polished off two plates. Not good for the thickening waistline, but great for the soul.
RECIPE
Kerabu Cekur with Salted Fish
3-4 shallots, thinly sliced
Juice from 2 kalamansi limes, or according to taste
1 tablespoon sugar, or according to taste
10-15 cekur leaves, rolled tightly and sliced thinly
2 tablespoons pounded fried salted fish
2 tablespoons sambal belacan, or 6-8 sliced cili padi
Marinate the shallots in the kalamansi lime juice and sugar for 5-10 minutes.
Then add the rest of the ingredients, and mix evenly.