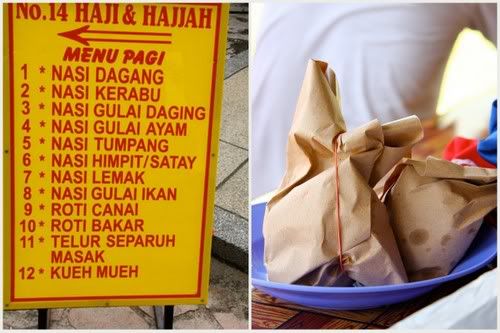 In recent years, rice has been much maligned. So many friends I know are staying away from rice, and swearing that they feel so much better, and lighter. They are so disciplined they'd have only a few spoonfuls of rice, if at all they have rice. Some have even switched to brown rice.
I have not been able to give up rice; I love it too much… have always and always will, long before carbohydrates got its bad name. As far as I am concerned, moderation is key. So, I eat my rice, and love it….though I have to think twice before I take a second helping these days.
So, it was really good to be in Kelantan, where people their rice unabashedly. There is so much variety of rice dishes, and they are all delicious. In KL and the rest of Malaysia, there is nasi lemak for breakfast. In Kelantan, there is nasi berlauk, nasi kerabu, nasi dagang, nasi tumpang, nasi kapit…..and the best are found here.
My first stop on the way from the airport to my friend's house in Kota Bharu was for khau jan, nasi kerabu Thai-style at U-Lang Corner (4939-B, Jalan Wakaf Mek Zainab). It's different from Malay nasi kerabu – for one, the rice is green because it is cooked in an infusion of about 40 herbs. I have seen my friend's aunt make khau jan, and she picks the herbs from around her garden – one stem of this, and a few leaves of that. She knows how much of each herb to use, and it's not the easiest recipe to take down because my friend's aunt knows some of the herb's names by their Thai name only.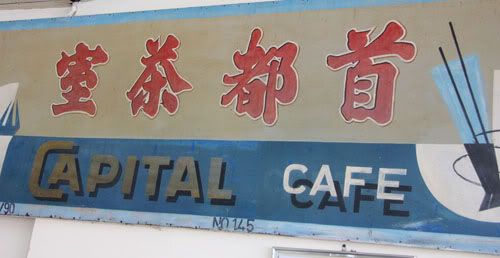 One of my favourite stalls in Kota Bharu is Mrs Foo's nasi dagang and nasi berlauk at Jalan Pejabat Pos Lama. It's changed location twice or thrice, but the stall has always been on this street. Some people like to ask for half nasi berlauk and half nasi dagang. You have the rice with lauk like beef curry, gulai ikan tongkol, vegetables, salted fish and sambal. Make sure you get a nice mix of the curries. When you get takeaways, Mrs Foo will pack the curries separately so that the rice doesn't get soggy from the gravy.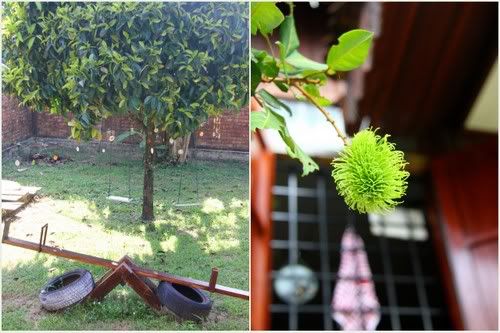 We were in Kota Bharu to visit our friend who moved here a year ago. They live in a kampung where they are the only non-Malay and non-Muslim family, and their neighbours have been most welcoming. Their house on stilts is so charming; made entirely of chengal wood, with a big backyard where the children can play freely. The best thing about this house is that it came with huge dry bathrooms, with a shower cubicle at one corner and walk-in closets.
Our friend is very much a part of the community here; neighbours drop by and share news. Kids ring their doorbell on the way back from school to say hello, and dutifully report to their parents about the going-ons in the neighbourhood. Neighbours generously share their pengat and kuih, and teach them about their food. Our friend said one of the first Kelantanese words they learnt was "tera" which means to try.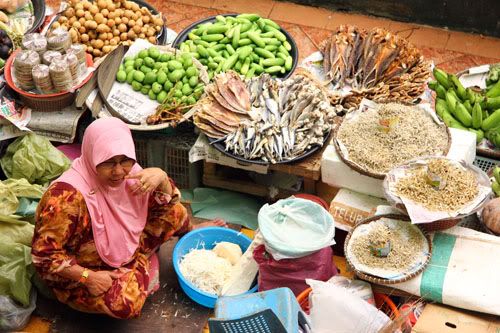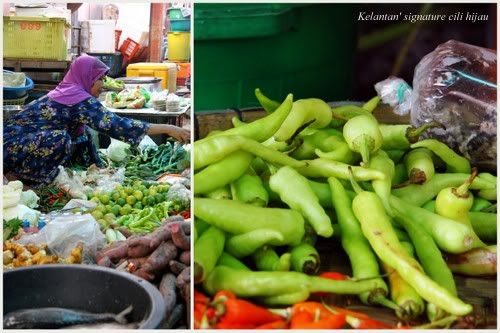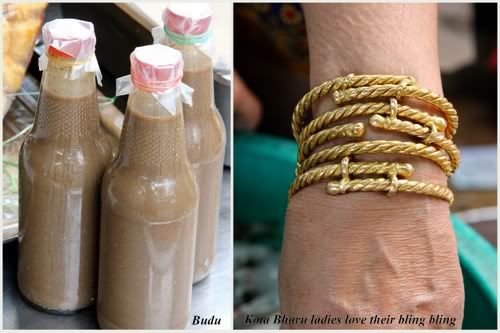 In the one year that she has been here, our friend has become well acquainted with Kelantanese food, and they know where to go. She has also learnt to cook nasi dagang from her neighbours, and her immediate neighbour who lives in a house built in 1957 made a real tasty jeruk buah.
Most people who have never been to Kelantan know it mainly as a PAS state. It's true that religion takes centrestage here; they play religious sermons over the loudspeakers here and all trading stop at the sound of the azan. Men and women queue up in separate cashier's lanes at the supermarket, and people are dressed conservatively here.
Kota Bharu is not a town to walk around in shorts and sleeveless tops, but it's no hardship to be respectful. The Kelantanese are definitely most friendly and happy to engage in conversations about everything from their unique dialect to ekok (seashell snacks), to explaining the rules of a bird singing competition to total strangers.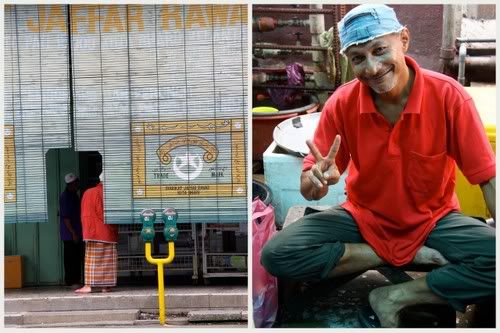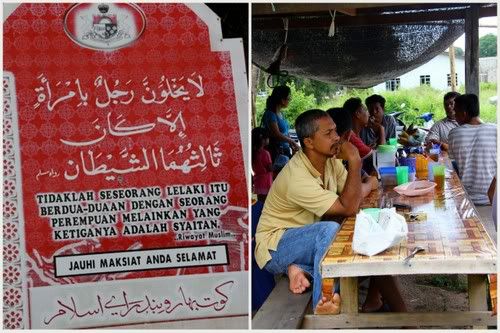 Last week, I was trying recipes from the cookbook Nik's Kitchen, which I was reviewing. But I found that there were a few recipes I couldn't try because it requires spice mixtures such as kuzi and kerutub, which are not commonly found outside of Kelantan. The author also recommended Wanita brand curry mixtures, which I was also not able to find in any of the hypermarkets in Kuala Lumpur.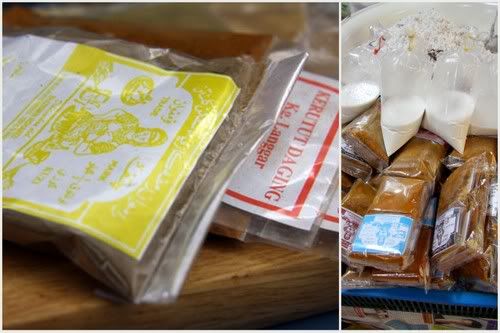 So, I went to the famous Siti Khatijah market to stock up on the kuzi and kerutub spice powder, and the Wanita brand curry powder, and of course budu. Our friend's Kelantanese neighbours all have their own kuzi recipe; it's a popular dish in Kelantan and they serve it during weddings and festivals. With my kuzi rempah mix cap Wanita in hand, I tried the ayam kuzi recipe the day after I came back from Kota Bharu. I was pleasantly surprised at how easy it was to make – there is no cutting and slicing of onions, ginger, garlic and all that. Apart from the kuzi spice mix, the other ingredients are tomato sauce and raisins.
It's a real tasty dish, and not hot at all, so children can eat this too. This recipe is definitely a keeper, and I think I'll be making it more than once. Only trouble is I only bought a packet of kuzi spice; yet another reason for a trip to Kelantan.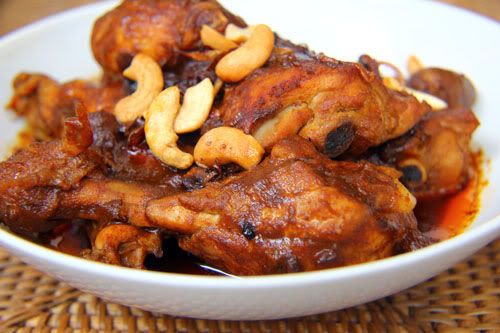 KUZI AYAM
(Adapted from Nik's Kitchen, recipes are from the collection of Nik Esah Nik Ahmad Kamil, daughter of Kelantan's former chief minister)
1 cup shallots, sliced thinly and fried till golden brown and crisp over low heat
3 cups cooking oil
1 chicken, cleaned and cut into medium pieces
3 chicken liver
3 chicken gizzard
3 tablespoon kuzi spice powder
3/4 of a 300g bottle of tomato sauce
3 cups water
2 tbsp ghee
4 tbsp oil (taken from the oil used to fry chicken)
1/2 cup raisin
1 cup roasted cashew nuts (optional)
Heat the oil, and brown the chicken. Don't overcook as this will make the chicken meat tough. Set aside.
Clean and dice the liver and gizzard, and mix with kuzi spice, tomato ketchup and 2 tablespoons of water.
Heat a pot, and add the ghee and oil. Fry the liver and gizzard with the spice mixture over medium heat, stirring from time to time.
When fragrant, add raisins and fried shallots. Add the chicken, and stir to coat them in the spice mixture. Add the rest of the water, and simmer for another 30 minutes.
Add cashew nuts (if using) and cook for another 5 minutes.
P/S: I cooked this kuzi ayam in my new Visions pot which I bought in the duty-free complex in Pengkalan Kubur, about 45minutes away from Kota Bharu.