If you grew up in a typical Chinese family, your grandparents would have probably told you that story of how they or some ancestor or the trishaw peddler used to be so poor they could only afford to eat salted fish. The poorest of the poor wouldn't even have that luxury. He'd dangle his salted fish so he could smell it while he ate his meal of plain porridge…he couldn't taste the salted fish, but the aroma would whet his appetite and sustain him. Fortunately, most of us are much less deprived or impoverished now. But I completely get sniffing at salted fish…it's actually pretty narcotic for the aroma of frying salted fish always makes me greedy and hungry.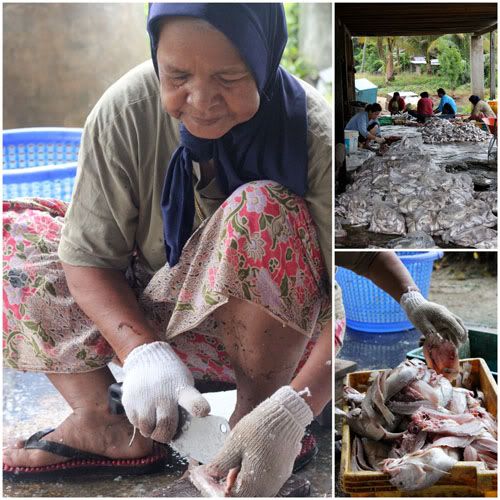 We were in Beserah, Pahang recently and saw how salted fish is made. Chit Lip Trading and Salted Fish processing centre is not visible from the road because it is hidden at the end of a row of wooden shophouses. But it's not hard to find, just let your nose lead the way. The fishy smell can be a tad overwhelming at first, but soon enough you won't notice it.
The lady boss, Yeoh Watt Kim, told us the best way to choose salted fish is to smell it… and that it must be "fragrant". Good quality salted fish does not smell fishy, but clean and clear with a depth that perks up your senses. When you smell fragrant salted fish, you can literally taste it.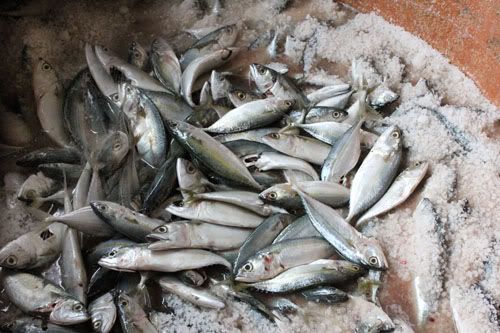 Salted fish is called ikan masin (salted fish) or ikan kering (dried fish) in Malay, and they describe exactly how salted fish is made. Fishes are gutted and scaled, and then preserved in salt or brine for a few days, and then dried under the sun.
This family in the fishing village of Beserah has been making salted fish for over a hundred years. They get their supply of fishes from the fishermen, and their own fishing boats. But these days, they also get supplies of frozen fish from further afield. Salting fish is still done pretty much how it has always been done, even though they have modern gadgets like freezers to keep the fish from going bad on cloudy days when there is no sun to dry them. The bulk of the work is in gutting and scaling the fishes, but these ladies are such pros.
At Beserah, salted fish are laid out on raised bamboo platforms to dry under the sun. On the east cost, salted fish making comes to a halt during the monsoon season at the end of the year.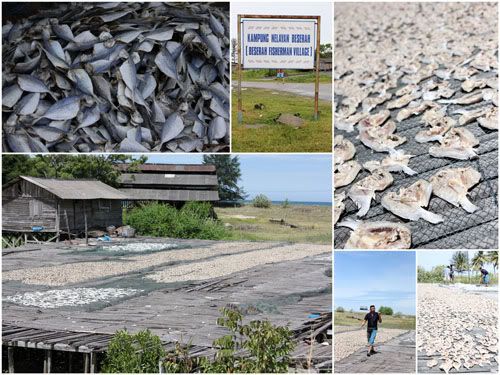 In the local film Woo Hoo which tells the story of how the people in Beserah were trying to revive their tiger dance tradition, the apprentices practise their moves on these wobbly salted fish drying platforms.
Salted fish are made from all kinds of fish. The cheaper ones are those made from small fishes like kembung and gelama. The best salted fish, mui heong, is those made from ikan kurau (threadfin)…the flesh is soft, and it is fragrant and gently salted.
Watt Kim told us that mui heong is expensive because it can only be made with the freshest fish – they literally hauled the fish from the fishing trawlers, clean them and salt them immediately before drying them for about two days.
Not all salted fish made from ikan kurau is mui heong; it's also about how the fish is salted. At Chit Lip, they still make their mui heong using their grandfather's recipe. There was no mui heong available for sale at Chit Lip while we were there, and we didn't stop to buy some in Kuantan. But we got some in the Pudu Market in Kuala Lumpur where three slices cost RM25. Salted fish is definitely no longer food for the poor.
I like the simplicity of mui heong, or any other salted fish, simply fried and eaten with plain watery rice congee. A chunk or two of fragrant salted fish, with fermented bean paste, is good enough for me.
I also like salted fish bone and mixed vegetable curry with light coconut milk. Then, there is steamed pork with salted fish, and salted fish in fiery dry sambal. Taugeh or kailan stir-fried with salted fish is also good. And I also like salted fish fried rice with lots of cili padi.
And last night, my aunt cooked this salted fish dish that she said she last ate some 30 years ago. She actually called my mother, and they worked out the recipe between them because my late grandmother used to make it. It's called masak titik, and it's salted fish with slices of belly pork, dried red chillies and dried tamarind slices.
The sourness of the tamarind, the saltiness of the salted fish, and the richness of the pork belly was so appetising. The flavours were pretty intense, and I ate way too much rice, as usual.
RECIPE
SALTED FISH AND PORK BELLY MASAK TITIK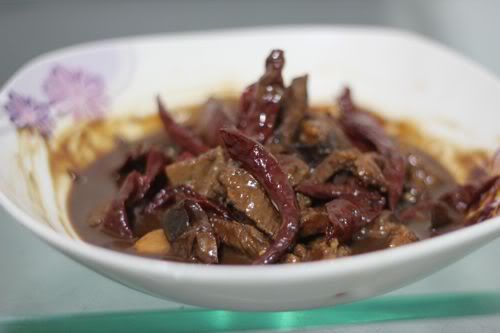 Ingredients
2 tablespoon cooking oil
2-3 cloves garlic, smashed
10 dried chillies
500g pork belly, sliced
1 teaspoon dark soya sauce
1/4 cup water
2 dried tamarind slices
1 salted fish fillet, cut into smaller pieces and fried till fragrant
Heat the oil, and saute the garlic and dried chillies till fragrant. Add the pork belly slices, and stir fry over high heat for few minutes. Lower the meat to medium, and add the dark soya sauce, water, tamrind slices and salted fish. Simmer over low heat till the pork is cooked and the liquid has been reduced.